My, oh, my, but a lovely article about Becalmed's launch party on board Sea Venture showed up on the front page of the New Bern News Journal  today.  (Click on the link to read the online version.)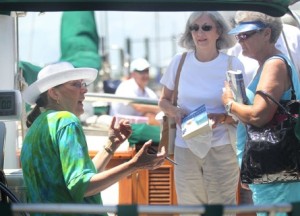 You can see what fun we had. The Rocking Chair Bookstore almost sold out of the fifty copies they had on hand, and a friend from New Bern said he thought about 100 people came through (many were families or couples).
The news photographer was very kind to me. Poor Mr. Chuck Beckley must have been miserable as he searched for the boat at the dock in all that sweltering heat. He took hundreds of pictures and very kindly picked one (or someone at the paper did) that showed me with a hiked shoulder–effectively lobbing off a few years from my profile. I should send him a thank-you note.